Retorts & Distillers Sold
PREVIOUS CREATIONS
CERAMIC DISTILLERS
Alembic Distiller

Total Height 17.50"

Item 316116

Fully functioning alembic
distiller.






Bowl 4.75" x 8.25"
Volume 2.9 Liters
(3 Quarts) This is made with speciial clay to resist cracking
when heated. View Distiller Video Here


Top View Inside
Item 316116


Made with stoneware clay.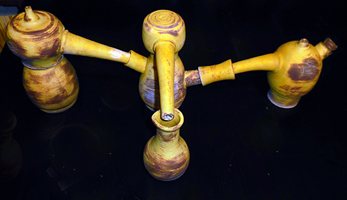 Approx 8" x 4" Spread 22" - 8 piece set - $125
Triple Conjunction Distiller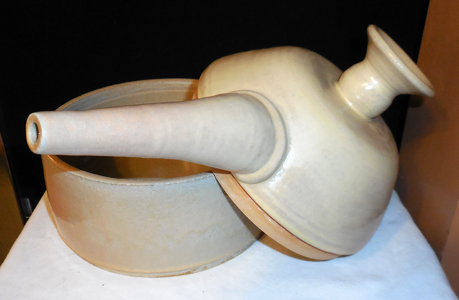 SOLD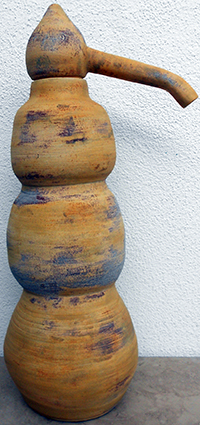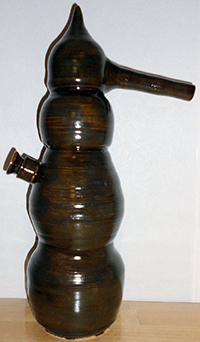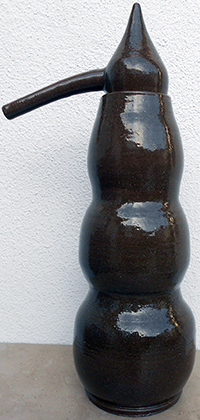 18"- 22" Tall. Sold
CLOSED CERAMIC DISTILLERS
These replicas of simple closed ceramic distillers. The fluid to be distilled was poured into the vessel by a side stopper that was sealed in clay during operation. The spout could also be accessed during operation to add ingredients or sample the process. The distillate condensed out of the vessel by the alembic spout, which was built into the body.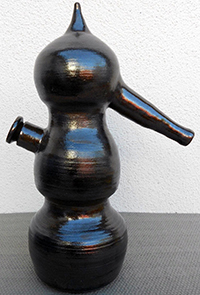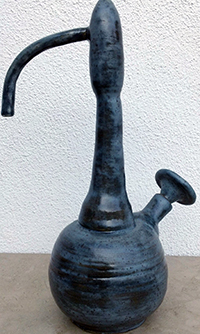 14" Tall. Sold
PELICAN DISTILLERS
These replicas are one of the Medieval alchemists' favorite pieces of labware -- the famous "Pelican." The Pelican is a circulatory distillation vessel with two side-arms feeding condensed vapors back into the body. It resembles the mythic pelican pecking at its breast to feed its hatchlings with its own blood, and thus is a symbol of the sacrifice the original solution goes through to give up its essence during distillation. The alchemists believed that compounds could be created in the Pelican that no other apparatus could produce. Removeable alembic spout on top.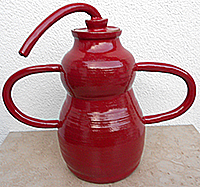 15" Tall. Sold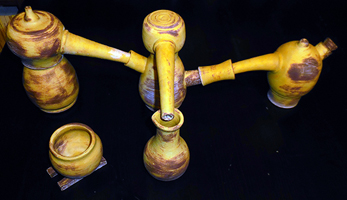 Sold
Distillers | Pots | Flasks | Jars | Heaters | Vases